Covid-19
Monthly




50




Ed Brubaker




Captain America, Bucky




Ongoing series




Frank D'Armata




Marvel Comics






January 2005 – July 2009




Steve Epting, Michael Lark, Mike Perkins, Jackson Guice, Luke Ross




Eisner Award for Best Writer




The Death of Captain America, Captain America and the F, Tales of Suspense, Captain America: Reborn, Fallen Son: The Death of Captai
Captain America (vol. 5) was an ongoing comic book series published for four years from January 2005 to July 2009 by Marvel Comics. It starred the superhero Captain America, and the entire series was written by Ed Brubaker. It was the fifth Captain America series with this title to be published, following series that ran from 1968–1996, 1996–1997, 1998–2002, and 2002-2004. After its fiftieth issue (July 2009), the series was renumbered to match the numbering of all the volumes of the title (454, 13, 50, 32, and 50), and volume 1 resumed publication with issue #600 with Brubaker remaining as writer.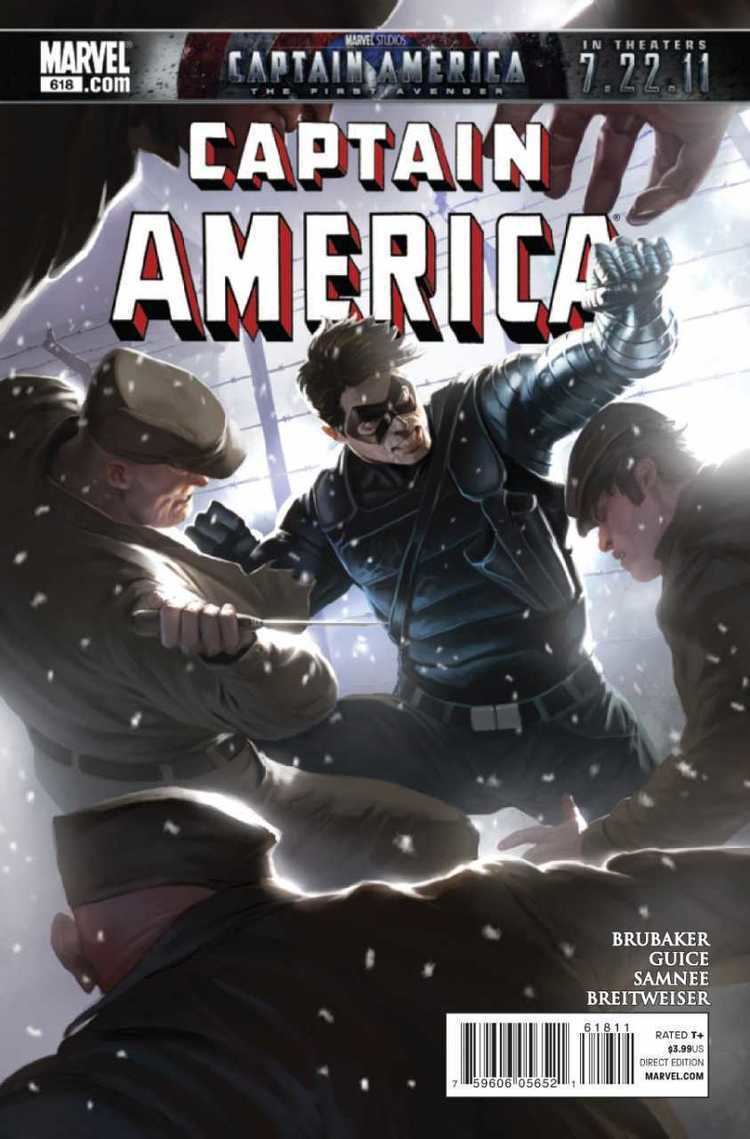 The series was best known for reviving Captain America's World War II partner Bucky Barnes as the Winter Soldier in issue #6, the presumed death of Steve Rogers in issue #25, and Bucky taking over the mantle of Captain America in issue #34.
"Out of Time" (#1-6)
"Interlude: The Lonesome Death of Jack Monroe" (#7)
"The Winter Soldier" (#8-9 & 11-14)
"House of M" (#10)
"Red is the Darkest Color" (#15)
"Collision Courses" (#16-17)
"Twenty-First Century Blitz" (#18-21)
"The Drums of War" (#22-24)
"The Death of Captain America: The Death of the Dream" (#25-30)
"The Death of Captain America Act Two: The Burden of Dreams" (#31-36)
"The Death of Captain America Act Three: The Man Who Bought America" (#37-42)
"Time's Arrow" (#43-45)
"Old Friends and Enemies" (#46-48)
"The Daughter of Time" (#49)
"Days Gone By" (#50)
In addition to the regular series, two one shot issues written by Ed Brubaker were published in coordination with ongoing stories.
Captain America 65th Anniversary Special (May 2006) follows up issues 15-17.
Winter Soldier: Winter Kills (February 2007) takes place at the same time as issues 22-24.
Ed Brubaker, #1-50
Steve Epting, #1-6, #8, #11-14, #18-21, #25-34, #37-38, #40-42, and #46
Michael Lark, #2-5, #9, and #12
John Paul Leon, #7
Lee Weeks, #10
Mike Perkins, #15-17, #22-24, #26-30, and #36
Jackson Guice, #35-36, #45, and #47-48
Roberto de la Torre, #39
Luke Ross, #42-45 and #48-50
Captain America: Winter Soldier Volume 1 (#1-7) ISBN 978-0785116516
Captain America: Winter Soldier Volume 2 (#8-9 & 11-14) ISBN 978-0785119210
House of M: World of M Featuring Wolverine (#10 and other House of M tie ins) ISBN 978-0785119227
Captain America: Red Menace Volume 1 (#15-17 and Captain America 65th Anniversary Special) ISBN 978-0785123217
Captain America: Red Menace Volume 2 (#18-21) ISBN 978-0785122258
Civil War: Captain America (#22-24 and Winter Soldier: Winter Kills) ISBN 978-0785127987
Captain America: The Death of Captain America Volume 1: The Death of the Dream (#25-30) ISBN 978-0785124238
Captain America: The Death of Captain America Volume 2: The Burden of Dreams (#31-36) ISBN 978-0785128502
Captain America: The Death of Captain America Volume 3: The Man Who Bought America (#37-42) ISBN 978-0785129714
Captain America: The Man With No Face (#43-48) ISBN 978-0785131533
Captain America: Road to Reborn (#49-50 and volume 1 #600-601) ISBN 978-0785141754
Captain America: Two Americas (#602-605 and Captain America: Who Will Wield the Shield?) ISBN 978-0785145103
Captain America: No Escape (#606-610) ISBN 978-0785145127
Captain America: The Trial of Captain America (#611-615 & 615.1) ISBN 978-0785151197
Captain America: Prisoner of War (#616-619) ISBN 978-0785151227
Captain America: Winter Soldier Ultimate Collection (#1-9 & 11-14) ISBN 978-0785143413
Captain America: Red Menace Ultimate Collection (#15-21 and Captain America 65th Anniversary Special) ISBN 978-0785156178
Captain America: The Death of Captain America Ultimate Collection (#22-42 and Winter Soldier: Winter Kills) ISBN 978-0785183792
Captain America Omnibus Volume 1 (#1-25, Captain America 65th Anniversary Special, and Winter Soldier: Winter Kills) ISBN 9780785128663
Captain America Omnibus Volume 2: The Death of Captain America (#25-42) ISBN 978-0785138068
Captain America Omnibus Volume 3: Captain America Lives! (#43-50, volume 1 #600-601, and Captain America: Reborn #1-6) ISBN 978-0785145141
Captain America Omnibus Volume 4: The Trial of Captain America ("Captain America: Who Will Wield The Shield? 1", volume 1 #602-610, Steve Rogers: Super Soldier #1-4, volume 1 # 611-619, 615.1, and Captain America (2011) #1-10) ISBN 978-0785192725
Captain America Omnibus Volume 5: Return of the Winter Soldier (Captain America and Bucky #620-628, Fear Itself 7.1: Captain America, Winter Soldier #1-5, Captain America (2011) #11-19, Winter Soldier #6-14) ISBN 978-0785192718
Captain America (vol. 5) Wikipedia