Sponsored Links
Topics
Sponsored Links
Guntis Ulmanis




Latvian Politician




Maris Gailis




People's Party





Vilis Kristopans




Guntars Krasts




Andris Skele




May 5, 2000






Guntis Ulmanis Vaira Vike-Freiberga


16 January 1958 (age 57) Ape, Latvia (

1958-01-16

)


Tautas partija (1998–2011)




Latvia University of Agriculture




Latvia University of Agriculture




Kristiana Libane-Skele (m. 2004), Dzintra Skele (m. 1979–2003)




Aigars Kalvitis, Aigars Stokenbergs, Atis Slakteris, Artis Pabriks, Kristiana Libane‑Skele
Andris Šķēle (born 16 January 1958 in Ape) is a Latvian politician and business oligarch. He has served two terms as Prime Minister of Latvia from 21 December 1995 to 7 August 1997, and from 16 July 1999 to 5 May 2000.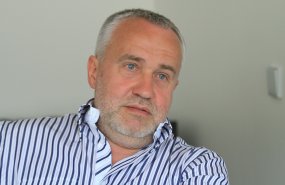 In 1995, after the parliamentary elections of 6th Saeima political parties were incapable of creating a coalition government for a while, thus Šķēle was presented as an independent candidate for the position of the Prime Minister. The Šķēle cabinet was passed by Parliament on 21 September 1995 and worked until early 1997, when Šķēle resigned after he had lost support from the Parliament. Šķēle created a new cabinet that took office on 13 February 1997 and worked until 7 August 1997.
In 1998, before the parliamentary elections of 7th Saeima, Tautas partija with Šķēle as its chairman was founded. It described itself as a conservative party. It managed to win the elections, by winning 24 out of 100 seats in the parliament, yet other parties managed to form a coalition government without Tautas partija.
The cabinet, led by Vilis Krištopans, fell and on 16 July 1999 already the third Šķēle cabinet took office, working until 5 May 2000.
In 2002 Šķēle was elected as a member of the parliament. In 2003, however, he resigned. Šķēle announced retirement from politics, but remained, as he stated, "ordinary member" of the People's Party and was thought to have a considerable behind-the-scene influence in the party.
In October 2009, when Tautas partija found itself in a deep crisis, Šķēle returned to politics as the chairman of the party. On March 2010 Tautas partija resigned from government. In October 2010 Šķēle was elected as a member of the parliament from the party alliance Par Labu Latviju, whose member Tautas partija was. To avoid repaying a Ls1 million campaign donation, the party was disbanded by the decision of its Congress on July 9, 2011. Šķēle didn't take part in the 2011 parliamentary elections.
Andris Šķēle has often been associated with various corruption scandals yet he himself has never been prosecuted, with his involvement in the cases officially limited as a witness.
Andris Šķēle is one of the wealthiest people in Latvia. The Baltic Times newspaper ranks him as the 15th wealthiest person in Baltic states, with a net worth of about 60 million euros.
Andris Šķēle Wikipedia